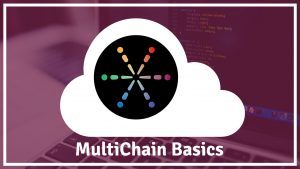 Description
Have you heard of MultiChain?
How about hearing of Private Blockchains?
Maybe you've been hearing about Blockchain Applications?
Whatever your motivation to start on your journey with using your own private Blockchain, you've come to the right place to get started on it.
MultiChain: How To Setup A Private Blockchain Using AWS EC2, is a concise and focused course guiding you on how to create, connect, and use your own private Blockchain in AWS.
It's the one place with everything you need to setup, and configure your own private Blockchain using MultiChain on AWS cloud. You will also learn how to setup your first node, and start the genesis block, following which you can enable private mining using other nodes in the network.
This is an effective and practical course guiding you through: What MultiChain Is, How To Setup & Connect To The Blockchain In AWS, How To Transact Native Assets, How To Enable & Control Mining, How To Install the MultiChain Explorer & Web Demo, as well as a whole lot more.
So you're aware MultiChain is an open platform to build Blockchain-based applications. It's an application which has a large community of developers, and supporters to help you build the applications quicker.
This course is designed for anyone who wants to become an early adopter of MultiChain and learn how to create, connect, and use your own private Blockchain in AWS. So if you've heard about private Blockchains but have yet to get involved, you're in the right place to jump in.
Fees:
Loading…
Who is the target audience?
Any One Who Is Interested In Setting Up A Private Blockchain.
Students Working On Blockchain-Based Projects.
Lecturers Looking To Teach Blockchain-Based Courses.
Employees Working On Blockchain-Based Projects In Their Company.
Entrepreneurs Looking To Understand The Practical Usage Of The Blockchain.
What Will I Learn?
Setup A Private Blockchain Using MultiChain On AWS Cloud.

Demonstrate The Power Of The Blockchain To Others.

Understand Why The Blockchain Is Such A Technological Advancement.

Be Able To Work With Blockchain Technology On A Practical Level.
Requirements
Basics Of Blockchain Technology.
Understand The Basic Fundamentals Of Bitcoin.
Have Know-How On The Basics Of Cryptography.
Course Curriculum
Overview & Definitions (21:02 Minutes)
How to Setup Private Blockchain Using MultiChain in AWS EC2 (87:06 Minutes)
Compatibility & Differences with Bitcoin Core
How to Create a Blockchain
How to Connect to a Blockchain
Commands in Interactive Mode
Using Native Assets & Transaction Metadata
Working with MultiChain Streams
Round-robin Mining How to Enable Mining
MultiChain Tools (17:15 Minutes)